It is with great sadness that I share the news that Thomas Grotrian has passed away. Our thoughts are with his family at this time.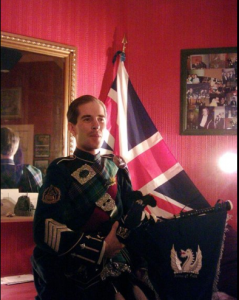 Thomas Grotrian was instrumental in developing the World's biggest massed pipe band in Edinburgh, 1995.  It was his vision and determination that brought thousands of pipers and drummers together to march along Princes Street to raise funds for Marie Curie Cancer Care.
It was this event that became the inspiration for Pipefest and since 1995, massed pipe band parades under the Pipefest banner have taken place in Edinburgh, New York, Chicago, the US Grand Prix, Indianapolis, Rome, Paris, Basel, Kyoto, Shanghai and Nova Scotia. Over £750,o00 has been raised for cancer charities by the players taking part and spectators along route. Highlights have included: the Millennuim Piping Festival attended by HRH Prince Charles; marching through Manhattan led by Sir Sean Connery and Mayor Bloomberg; marching under the Eiffel Tower in Paris; opening the US Grand Prix in a parade led by Sir Jackie Stewart; and Pipefest 2005 which attracted players from 32 countries.
After Pipefest 2005, Tom summed-up working on massed pipe band events: "we have had great fun".  Indeed – there are many great memories, proud moments & fun times, all thanks to Tom!
Magnus
Tom's funeral will take place on Thursday, 11th August. Tom's family would like to invite a number of pipers and drummers to play at the funeral. Updates will be published on this site.
If you would like to play or attend please contact:
Magnus Orr – magnus@pipefest.com