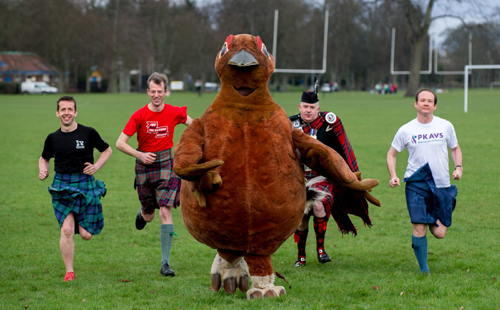 The Perth Diamond Jubilee Celebration was officially launched today at Perth Concert Hall – with one very welcome guest Famous Grouse!
On Saturday 2nd June, 1,000 Pipers and Drummers will march through Perth along Tay Street and into North Inch.  To date 742 players have registered – we urge those who haven't to consider taken part!
Perth Diamond Jubilee Parade Registration
The huge ensemble will march into North Inch Park and mark the start of the Big Jubilee Lunch. On the big stage live entertainment will entertain the pipers, drummers and public. Followed by a Spitfire flying display.
Later in the afternoon the World Record Breaking Kilt Run attempt will take place www.perthkiltrun.co.uk. Perth Kilt Run is delighted to announce its official partner charities as ABF The Soldiers Charity and PKAVS. Runners are invited to run for the nominated charities and join a mammoth fundraising effort across Scotland for these two remarkable causes. The charities are working in partnership meaning that all funds raised through the Kilt Run will be split equally, showing support for both a national and local cause.
Perth welcomes pipers, drummers, runners, families and friends!
Save the date: 2nd June.